| | |
| --- | --- |
| This recipe is liked by 0 person(s). | |
Fondo vegetale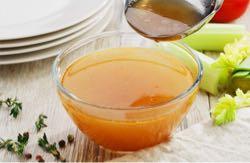 Categories:
Nb persons: 0
Yield:
Preparation time:
Total time:
Source:
Ingredienti litri
1 kg
Sedano, tagliato grossolano
1 kg
Carota, tagliato grossolano
1 kg
Cipolle gialle, tagliato grossolano
500 g
Pomodori di san marzano
Sale
pepe
gambi
prezzemolo
5 g
Foglie di alloro
2 g
Chiodo di garofano
10 g
Timo
6 litri
Acqua
Preparazione
Mettere tutti gli ingredienti in una marmitta.

Aggiungere l'acqua fredda e portare a bollore.

Fare ridurre a fiamma bassa per circa 30 minuti.

Filtrare in un colino cinese e mettere da parte.


Display the recipe for printing
View the .scx source of the recipe
Download the .scx source of the recipe
Note: to save the .scx file to your disk, you may have to right-click (control-click on Macintosh) the link above.