Carpaccio of Beef with Parmesan crackling and Cepollini Onions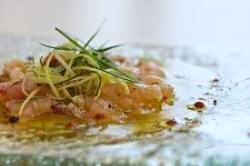 Categories: starters/carpaccio/beef/salads
Nb persons: 12
Yield:
Preparation time: 10 minutes
Total time: 35 mins
Source: Gavin Grabe
| | |
| --- | --- |
| 1 Small Fillet | beef, all sinews removed and trimmed |
| 1 Bottle | Full-bodied Red Wine |
| 1 | onion, chopped into 1cm cubes |
| 2 | Fresh Bay Leaves |
| 10-15 | Juniper Berries, (slightly crushed) |
| 10-15 | Whole Peppercorns |
| 1 clove | garlic, peeled |
| 1cm piece | ginger |
| 3 | Sweet Baby Onion |
| 3 | Parmesan Crackling |
| 1 | carpaccio sauce |


1. Place all the ingredients except beef into a saucepan and bring to boil. Remove from stove and place in a container and allow to cool. Put the beef into the wine mixture ensuring it is submerged and refridgerate for 48hours.
2. Remove the meat from the liquor. At this stage the meat takes on a bluey colour.
3. Season it with fresh black pepper and salt.
4. Wrap some string down the length of the fillet and tie a knot at the end to ensure it dries evenly.
5. Now hang it in your fridge or a dark, cool place with a good draft for at least 5 days. I would recommend 1-1.5 weeks
6. Once the meat has dried it should feel dry on the outside but spongy to the touch.
7. Wrap it in cling film in a tight sausage shape, tying ends to make uniform slices and freeze for at least 12 hours, ensuring it remains flat to keep its shape.

when ready to serve, slice on a slicer(5 slice per portion), serve with ultra thin slices of fresh ginger, scallions, confit of ceppollini onions, radish, cilantro leaves, and parmesan crackling(see seperate recipe). Drizzle with lemon olive oil and carpaccio sauce(see seperate recipe)


Recipe uploaded with Shop'NCook recipe organizer software.
Back to Shop'NCook recipe database