| | |
| --- | --- |
| This recipe is liked by 0 person(s). | |
Hot Cross Buns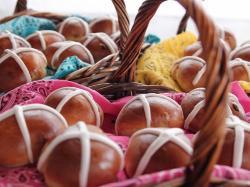 Categories: Brunch
Nb persons: 18
Yield:
Preparation time: 35 min
Total time: 3 hrs
Source: The Pioneer Woman
2 cups
whole milk
1/2 cup
canola oil
3/4 cup
granulated sugar
1 package (2 1/4 teaspoons)
active dry yeast
4 1/2 cups
all-purpose flour, plus more for flouring
1/2 teaspoon (heaping)
baking powder
1/2 teaspoon (scant)
baking soda
2 teaspoons
salt
1 teaspoon
cinnamon
Additional spices, such as cardamom, nutmeg or allspice, optional
1/2 cup
raisins
Glaze:
1
egg white
Splash of milk Icing:
1
egg white
Powdered sugar, as needed
Milk, as needed

Directions



For the buns: Combine the milk, canola oil and 1/2 cup of the granulated sugar in a saucepan. Stir and heat until very warm but not boiling. Turn off the heat and allow to cool until the mixture is still warm but not hot, about 30 minutes.

Sprinkle the yeast over the mixture. Add 4 cups of the flour and stir to combine; the mixture will be very sticky. Cover with a towel and set aside for 1 hour.

Add the baking powder, baking soda, salt and remaining 1/2 cup flour to the dough. Stir until combined.

Combine the remaining 1/4 cup granulated sugar in a small bowl with the cinnamon and whatever other spices you want to use.

Lightly flour a work surface and turn out the dough onto it. Press to slightly flatten the dough. Sprinkle a third of the sugar/cinnamon mixture over it. Sprinkle on about a third of the raisins. Then fold the dough over on itself and flatten again so the dough is "plain" again. Repeat the sugar/raisin process, then fold the dough again. Repeat a third time.

Line a baking sheet with a silicone liner or parchment paper. Pinch off Ping-Pong- or golf ball-size bunches of dough. With floured hands, quickly roll them into balls, then turn the edges under themselves slightly. Place on the prepared baking sheet. Cover and allow to rise in a warm place for at least 30 minutes....an hour plus is better.

Preheat the oven to 400 degrees F.

For the glaze: Mix the egg white with a splash of milk. Brush onto the balls of dough.

Bake until the tops of the buns have turned nice and golden brown, 20 minutes give or take. Allow to cool on a cooling rack.

For the icing: Mix the egg white with enough powdered sugar for the icing to be very thick. Splash in the milk as needed for consistency.

When the buns are completely cool, add the icing to a small ziptop bag and snip the corner. Make icing crosses on each bun.



Recipe uploaded with Shop'NCook recipe organizer software.
Display the recipe for printing
View the .scx source of the recipe
Download the .scx source of the recipe
Note: to save the .scx file to your disk, you may have to right-click (control-click on Macintosh) the link above.