| | |
| --- | --- |
| This recipe is liked by 0 person(s). | |
Caramelized Maui Onion Dip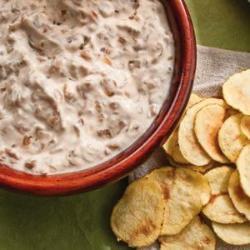 Categories: dip/onion dip
Nb persons: 0
Yield: 3 cups
Preparation time: 20 minutes
Total time: 1.5hours
Source: Gavin Grabe
| | |
| --- | --- |
| 1 cup | sour cream |
| | Onion powder, (to taste) |
| ?2 tablespoons | olive oil? |
| 2 | Maui onions , (or other sweet onions) halved and thinly sliced (about 5 cups)? |
| 1T | brown sugar |
| 1tsp | worcestershire sc |
| 1/2 cup | buttermilk? |
| 1 teaspoon | kosher salt |


Heat the oil in a large nonstick frying pan over low heat. Add the onions, brwon sugar and worcestershire sc and cook, stirring occasionally, until brown, sticky and caramelized. Transfer the onions to a small bowl and chill until cold (about 1 hour).??Reserve 1 tablespoon of the onions.??In a food processor, pulse the remaining onions, sour cream, buttermilk and salt until just combined. Transfer to a serving dish and top with the reserved onions. Chill for at least an hour before serving.?


Recipe uploaded with Shop'NCook recipe organizer software.
Display the recipe for printing
View the .scx source of the recipe
Download the .scx source of the recipe
Note: to save the .scx file to your disk, you may have to right-click (control-click on Macintosh) the link above.