| | |
| --- | --- |
| This recipe is liked by 2 person(s). | |
Pei Wei Chicken Lo Mein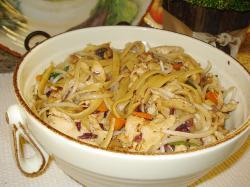 Categories: Main Dish
Nb persons: 0
Yield:
Preparation time:
Total time:
Source: http://www.thesisterscafe.com/2011/06/chicken-lo-mein
1 ? 1 1/2 pounds
chicken breast, sliced very thinly
Marinade:
1 Tb
soy sauce
1 1/2 tsp
cornstarch
Sauce:
2 Tb
oyster sauce
2 tsp
soy sauce
4 Tb
beef broth
1 Tb
granulated sugar
8 ounces
linguine, prepared to al dente
1 tsp
sesame oil
1/4 cup
canola oil
1 clove
garlic, chopped
1 large
carrot, chopped into 1/2-inch pieces
1/2 cup
chopped cabbage, such as Napa
1 cup
sliced mushrooms
1-2 cups
bean sprouts
3
green onions, sliced in 1 inch segments, white and green parts *note: I like to chop up the white parts small and leave the green parts in longer pieces


Combine marinade ingredients with the chicken and allow to sit for 20 minutes. While the chicken is marinating, prepare the remaining ingredients.

In a small bowl, combine the oyster sauce, soy sauce, beef broth, and sugar. Set aside.

Boil noodles as per package instructions. Drain the noodles and toss with the sesame oil.

Heat a wok (or large, deep frying pan) over medium-highheat. Add the 1/4 cup of oil. Add the chicken. Stir fry chicken until cooked ? about 5 minutes. Remove from wok and set aside.

Add another 1 Tb of oil to the wok if needed. When the oil is hot, add the garlic. Stir-fry until garlic browns, then add the carrots. Stir-fry for about 1 minute, then add the shredded cabbage and mushrooms. Cook for 2 more minutes. Add the noodles, bean sprouts, and green onions and cook for about 2 more minutes.

Add the sauce to the wok. Return the chicken to the pan. Mix everything together and serve hot.


Recipe uploaded with Shop'NCook recipe organizer software.
Display the recipe for printing
View the .scx source of the recipe
Download the .scx source of the recipe
Note: to save the .scx file to your disk, you may have to right-click (control-click on Macintosh) the link above.